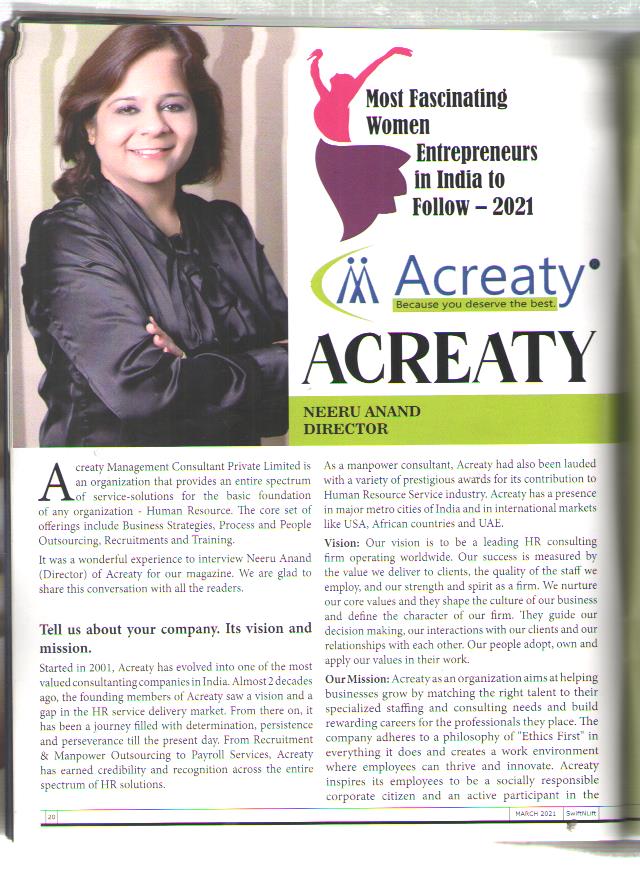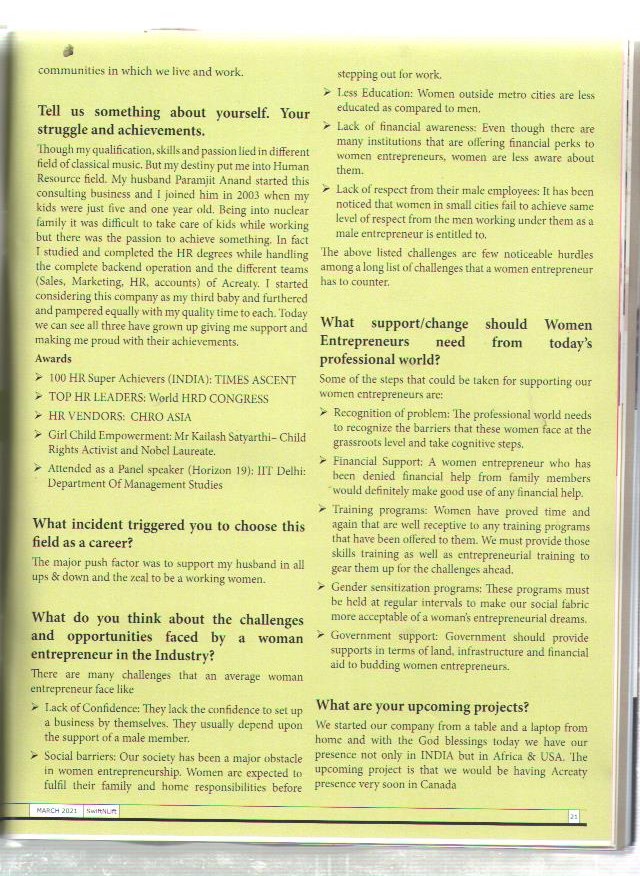 Acreaty Management Consultant Private Limited is an organization that provides an entire spectrum of service-solutions for the basic foundation of any organization – Human Resource. The core set of offerings include Business Strategies, Process and People Outsourcing, Recruitments and Training.
It was a wonderful experience to interview Neeru Anand (Director) of Acreaty for our magazine. We are glad to share this conversation with all the readers.
Tell us about your company. Its vision and mission.
Started in 2001, Acreaty has evolved into one of the most valued consultanting companies in India. Almost 2 decades ago, the founding members of Acreaty saw a vision and a gap in the HR service delivery market. From there on, it has been a journey filled with determination, persistence and perseverance till the present day. From Recruitment & Manpower Outsourcing to Payroll Services, Acreaty has earned credibility and recognition across the entire spectrum of HR solutions.
As a manpower consultant, Acreaty had also been lauded with a variety of prestigious awards for its contribution to Human Resource Service industry. Acreaty has a presence in major metro cities of India and in international markets like USA, African countries and UAE.
Vision: Our vision is to be a leading HR consulting firm operating worldwide. Our success is measured by the value we deliver to clients, the quality of the staff we employ, and our strength and spirit as a firm. We nurture our core values and they shape the culture of our business and define the character of our firm. They guide our decision making, our interactions with our clients and our relationships with each other. Our people adopt, own and apply our values in their work.
Our Mission: Acreaty as an organization aims at helping businesses grow by matching the right talent to their specialized staffing and consulting needs and build rewarding careers for the professionals they place. The company adheres to a philosophy of "Ethics First" in everything it does and creates a work environment where employees can thrive and innovate. Acreaty inspires its employees to be a socially responsible corporate citizen and an active participant in the communities in which we live and work.
Tell us something about yourself. Your struggle and achievements.
Though my qualification, skills and passion lied in different field of classical music. But my destiny put me into Human Resource field. My husband Paramjit Anand started this consulting business and I joined him in 2003 when my kids were just five and one year old. Being into nuclear family it was difficult to take care of kids while working but there was the passion to achieve something. In fact I studied and completed the HR degrees while handling the complete backend operation and the different teams (Sales, Marketing, HR, accounts) of Acreaty. I started considering this company as my third baby and furthered and pampered equally with my quality time to each. Today we can see all three have grown up giving me support and making me proud with their achievements.
Awards
100 HR Super Achievers (INDIA): TIMES ASCENT
TOP HR LEADERS: World HRD CONGRESS
HR VENDORS: CHRO ASIA
Girl Child Empowerment: Mr Kailash Satyarthi– Child Rights Activist and Nobel Laureate.
Attended as a Panel speaker (Horizon 19): IIT Delhi: Department Of Management Studies.
What incident triggered you to choose this field as a career?
The major push factor was to support my husband in all ups & down and the zeal to be a working women.
What do you think about the challenges and opportunities faced by a woman entrepreneur in the Industry?
There are many challenges that an average woman entrepreneur face like
Lack of Confidence: They lack the confidence to set up a business by themselves. They usually depend upon the support of a male member.
Social barriers: Our society has been a major obstacle in women entrepreneurship. Women are expected to fulfil their family and home responsibilities before stepping out for work.
Less Education: Women outside metro cities are less educated as compared to men.
Lack of financial awareness: Even though there are many institutions that are offering financial perks to women entrepreneurs, women are less aware about them.
Lack of respect from their male employees: It has been noticed that women in small cities fail to achieve same level of respect from the men working under them as a male entrepreneur is entitled to.
The above listed challenges are few noticeable hurdles among a long list of challenges that a women entrepreneur has to counter.
What support/change should Women Entrepreneurs need from today's professional world?
Some of the steps that could be taken for supporting our women entrepreneurs are:
Recognition of problem: The professional world needs to recognize the barriers that these women face at the grassroots level and take cognitive steps.
Financial Support: A women entrepreneur who has been denied financial help from family members would definitely make good use of any financial help.
Training programs: Women have proved time and again that are well receptive to any training programs that have been offered to them. We must provide those skills training as well as entrepreneurial training to gear them up for the challenges ahead.
Gender sensitization programs: These programs must be held at regular intervals to make our social fabric more acceptable of a woman's entrepreneurial dreams.
Government support: Government should provide supports in terms of land, infrastructure and financial aid to budding women entrepreneurs.
What are your upcoming projects?
We started our company from a table and a laptop from home and with the God blessings today we have our presence not only in INDIA but in Africa & USA. The upcoming project is that we would be having Acreaty presence very soon in Canada.