Recruitment 5 Advantages of hiring leading Executive Search Firm for your business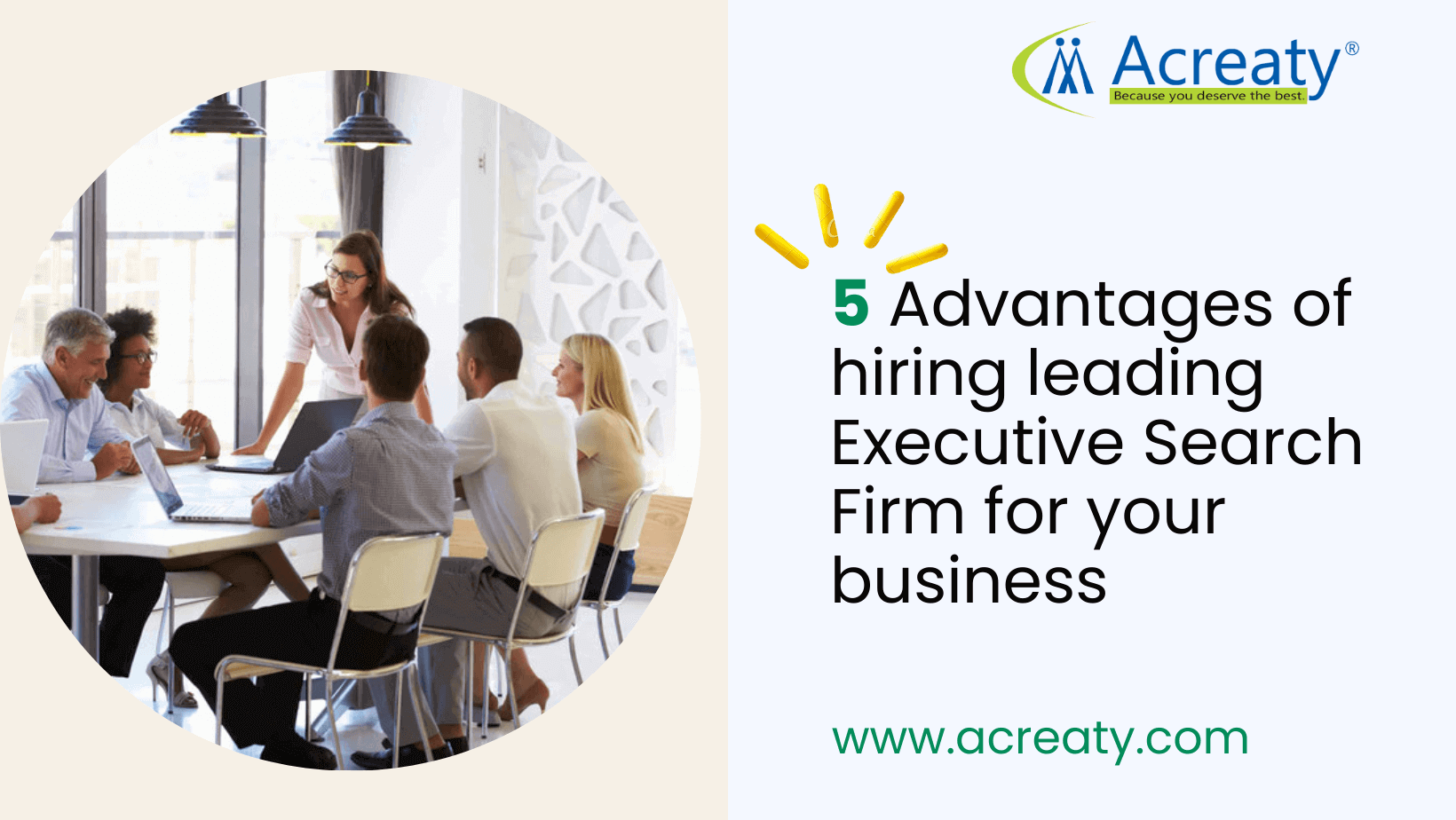 Senior Executive Search for the company can under taken by the HR Department as well as internally within an organization, however, the leading Executive Search Firm are ultimately effective and well-organized. With their broad network contacts, expertise and objectivity, executive search companies are specialists in value adding to the top management C-Level Executive Search of an organization.They have skilled, trained and well-experienced Executive recruiters who can smartly identify the best leaders and fill important C- level job positions: President, Vice President, Director, Manager, C-level executives (CEO, CIO, COO, CMO, CFO and CTO) and General Manager Roles in the management team.
Outsourcing C-level hiring solutions and placing C-level candidates for various positions are usually highly customizable. Executive Search Companies in India can manage a huge portion of the Leadership Hiring process, from C-level leaders sourcing, to the on-boarding of the new hire. Each and every outsourcing solution is flexible depending on the requirements of the specific Company.By outsourcing the C-Level Executive Search, a Company can focus on projects or assignments that will have the greatest impact on the business outcomes and spend time where it is most needed. A specialist C-level Recruitment firms can also liaise with your in-house HR team to find the right and most suitable Leaders for the Organization.
Executive Search Companies in India operate on the following basis:
•
In-depth understanding of the client's requirement.
•
Globally accepted methodology.
•
Outstanding research to map the market comprehensively.
•
Hunting the right talent capable of prospering in the industries
Here are five key advantages to using a specialized Executive Search Firm for C-level recruitments in your organization:
•Identify the potential senior leaders- Finding suitable leaders who best fits your company culture is as important as identifying the right skills, competencies and experience.A specialist Executive Search Firms will get to know who you are and what your business is trying to achieve. Specialists have access to a database or broad pool of talented senior leaders; sourcing right candidates who can actively work for the Company.
•Experience, Exposure and Expertise-As specialist C-level hiring companies have recruited in specific markets for years, they understand the requirements and the vagaries of the industry.This will give your C-level hiring process efficiency, as well as providing your in-house HR team with crucial information to inform future job decisions.
•Cost Effective Outsourcing Solutions-Working with a premier Executive Search agency can radically reduce the time spent in sourcing the right people.You can easily save time and money with agencies well positioned to hunt, screen and shortlist perfect candidates in a systematic and streamlined way.
•Access to the Best Talent at Fingertips-One of the reasons more companies are turning to outsourcing their leadership hiring activities is that this process is easier than ever. With the click of a button and connecting with such companies, you can find a highly skilled leader or professional working for you without paying a ton of money.
•Company can focus on Core Business Function-Many business owners never have enough time to focus on Core Business Function. By hiring and outsourcing Senior-level process, you can focus on projects that will have the huge impact on the business and spend time where it is much required.Even if you have an established in-house HR Department, outsourcing can be used to offset a heavy workload from your current team and prevent excessive stress.
Overall,
Executive Search Companies
in India help in numerous ways that just cutting hiring costs or filling Senior-level positions faster. They can also help a business improve their brand identity and become a better place to work. A good Executive Search firms in India will approach each search or recruitment process from a fresh perspective.