Headhunting 5 ways Headhunting is different from traditional online recruitment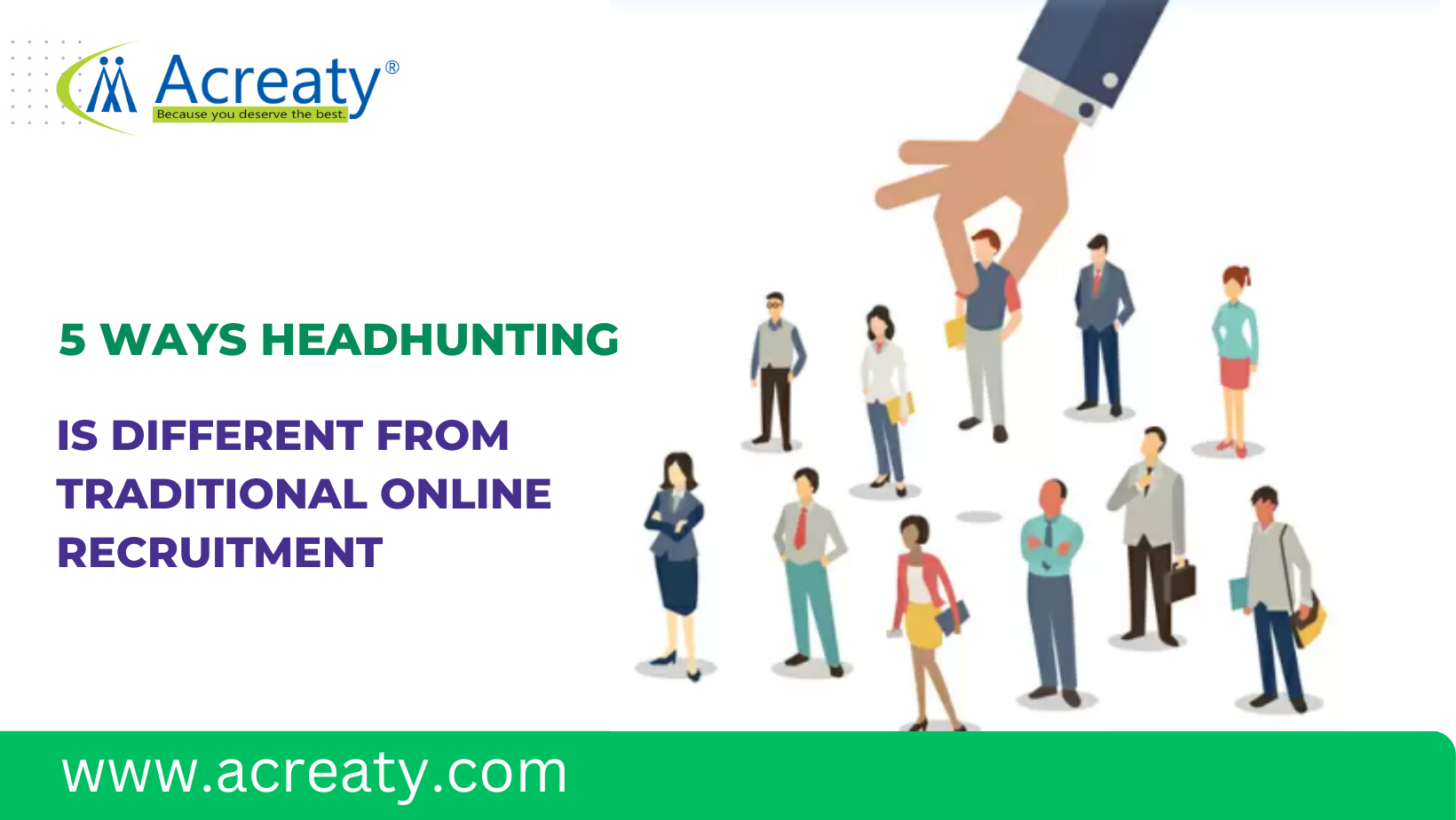 Head hunting is one of a kind of recruitment technique which targets hiring management professional candidates. It is not an easy task to hire a CEO, Board of Directors or employees with similar responsibilities. If a company does a wrong hire then there could be consequences and companies have to face difficulties. To overcome the fear of wrong recruitment, companies need to hire professional business advisory services in India. This has its own benefits which are discussed below-
1. Skilled candidates
Do you want to hire non performers or candidates? The most probable answer is NO. The executive search firms in India provide only the skilled and most professional candidates for these job vacancies. They understand the loss of hiring the wrong candidate for the company. It wastes time, money and resources, more importantly if companies hire any candidates then it won't be easy to fire them and start the whole process of starting. The third party provides screened and background candidates to the companies
2. Timely Recruitment
The top headhunting companies in India are helping other contracted organizations hire the best candidates within a given time frame. It is important because no company wants their upper management vacancies empty for a long duration. If done so then there are chances that the company may lack supervision or loss in productivity among the lower level of the management. A timely recruitment of higher level employees will maintain the leadership qualities among their peers.
3. Reduce Recruitment cost
When companies outsource recruitment process the main target is to hire the best candidates while limiting the recruitment budget. The executive search firms in India help nationals and international clients with the best recruits under optimum costing of project. They don't compromise with the quality which in terms of productivity gives the best ROI.
4. Provides a variety of candidates
Well this is important they promise the variety of candidates which in itself is a difficult job. These companies help employers with the list of most deserving candidates so at the point of decision making they are not limited to one or two options. This enables companies to conduct various interview tasks to short and hire only the best among the top candidates. Yes, this ensures that there are no chances to hire any mismatched candidates for the job opening.
5. Use of latest technology
Traditional online hiring is history. New recruitment is way more updated and effective as compared to other hiring methods. Headhunting companies in India work on latest talent acquisition model, which includes extensive use of databases and employee referral programs. This also includes shortlisting candidates from other internet sources such as job portals, social media and others.
Acreaty is a global brand and it has extensive business operations in recruitment and staffing. The organization has expertise in various hiring protocols including C-Level hiring, field sourcing, executive hiring and bulk hiring.
If you are looking to have a perfect workforce in your organization contacts us www.acreaty.com/contact-us