Business Advisory 7 Ways to optimize your business for customer delight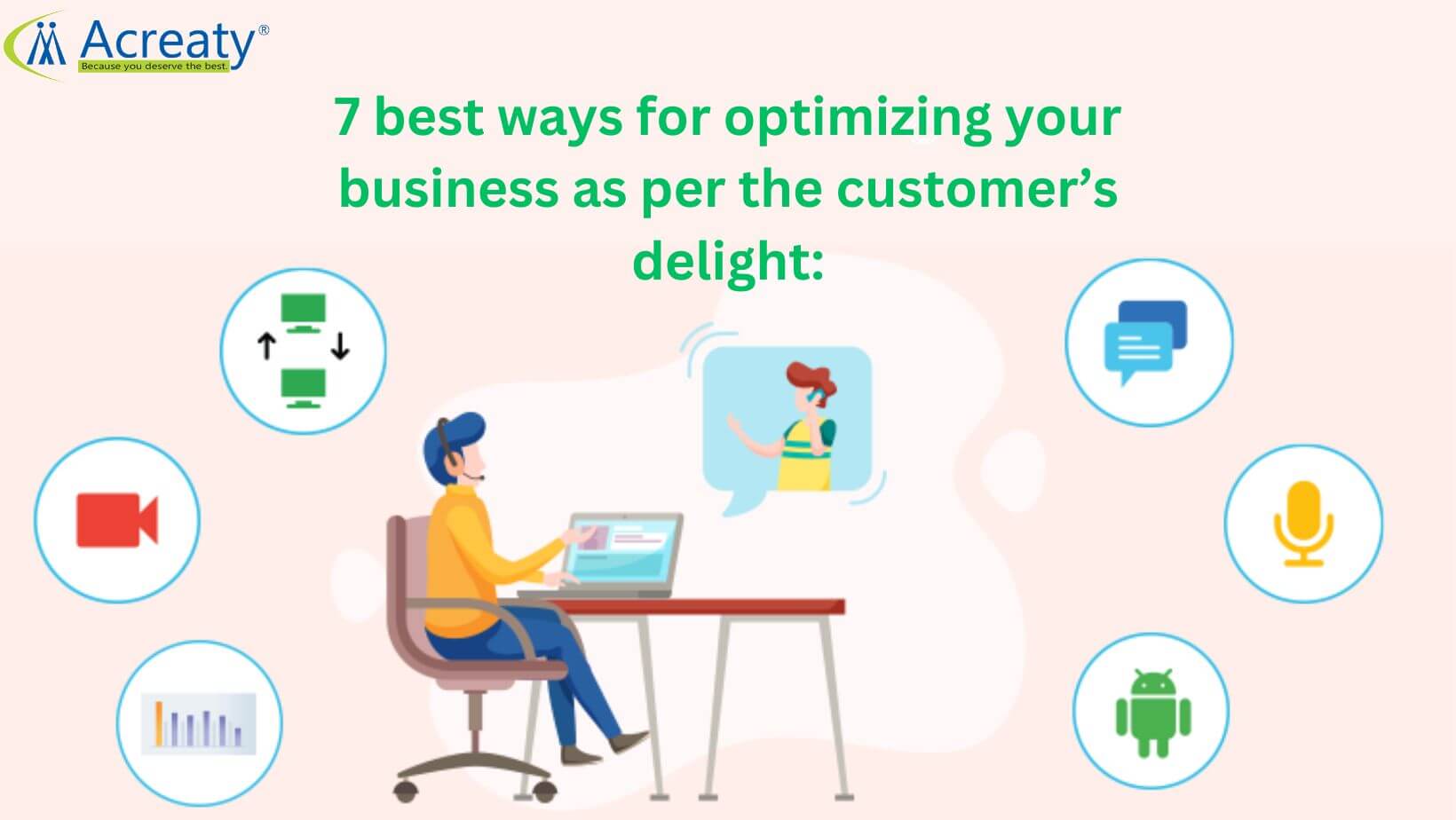 There is nothing more phenomenal than the 'relationship' shared between a business and its customers. Bonded with the faith of love and trust, it is this relationship that makes a service successful within no time. Thanks to the age of automation and innovation- the touch of 'care' has been best redefined and it couldn't get better than this.
Have you ever had an 'unhappy' customer? Have you ever thought how demeaning it could be for your business circle? The harmful effects of mass opinion, negativity, social outrage and undesirable publicity can tarnish the image of your organization. This is why sustaining healthy customer relationship is important for all businesses. The best way to make it possible is to dwell a customer-focused culture that indirectly welcomes promising business opportunities in the most phenomenal manner.
Here are the 7 best ways for optimizing your business as per the customer's delight:
1. Your customers are human- Treat them same:
Happy customers are those who are treated with simple and pleasant gestures. Just like your business, they are souls entrapped in human bodies and thus, the treatment has to be equal. Don't worship them like God, understand their need structure, address them with love, and make each and every interaction original.
2. Respect their 'Space.'
Nasty ways of marketing or promotional can demean the personal space of your customer. Have respect for your customer's time, comfort, and space. Never mistreat them with a rude behavior because it might lead to negative word of mouth (hence, might affect your company's reputation).
3. Listen to your customers:
Listening is one great way of troubleshooting most of the business errors- hence, listen to what your customers have to say. Make your feedback mechanism healthy to let your customers express their ideas and suggestion. You can use methods like surveys, observation, customer services, social media platforms, online forums, open communication portals, etc. to enable frequent listening.
4. Offer round the clock support:
Nothing is more satisfactory for a customer than the fact that he/she is secured under your continuous supervision. Offer round the clock service support to customers, especially if the call is urgent to sustain a healthy relationship.
5. Treat them 'special':
If you are going to treat your customers like your 'value added' partners, it will boost the two-way communication between both the parties. Make them feel special and get the best chance of strengthening trust and loyalty between relationships.
6. Invest your best time in 'Trust-Building' exercises:
You might take years to build trust in a relationship, but it will just cost you one single mistake to ruin everything! Just one mistake and everything is gone- Whoops! Engage your adventures in building trust to balance positivity and negate the adverse effects.
7. Embrace transparency- GOLDEN Rule!
If you want your business to survive in this digital era, embrace transparency building and sustain trust, satisfaction, and love with your prospect/customers. Transparency comes from sharing information- it happens when a company is not afraid of accepting feedback openly and in short, has nothing fishy to hide. Transparency breeds trust.