Executive search 7 ways How Executive Search practices are different from traditional recruitment?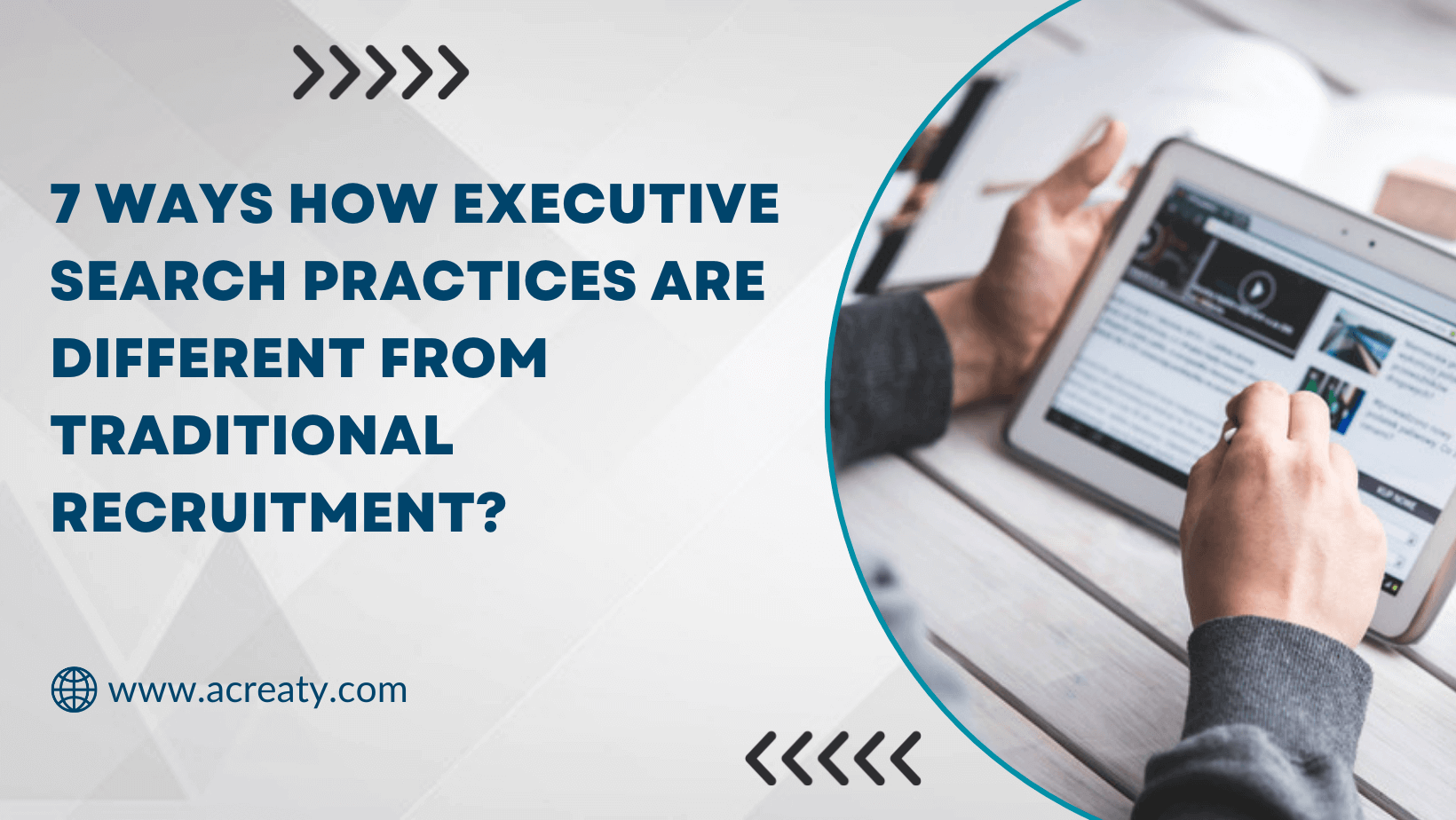 Recruitment is the most self-evolving and developmental task done by a company. After all, the most influence asset of a business i.e. employee hiring is associated with this concern. But unlike the traditional recruitment practices, Executive search practices are a specialized field of interest. It is just not about finding a job or hiring an employee. It is more about making a career.
What is Executive Search Practices?
Generally regarded as
headhunting
, executive search refers to the hiring of senior management i.e. executives or managers in an organization. As per the modern recruitment practices, headhunting is mostly performed by dedicated recruitment firms that provide the services of outsourcing employees to businesses. The task of hiring higher resources involves a serious procedure such as:
1. Thoroughly analyzing the client's requirements.
2. Hunting the best and most deserving resources
3. Investigating details about the selected applicants.
4. Researching about the availability of desired candidates.
5. Detailing their history (knowing whether they have any direct link with the competitor or not)
7 Ways How Executive Search practices are different from traditional recruitment
Unlike traditional recruitment, executive search is altogether a different approach. It differs in terms of both means of recruitment and outreach patterns. Unravel the 7 broad ways that differentiate executive search from traditional hiring.
1.Executive search is differentiated by the pay grade of the candidates. It is something that generally goes above R700 000 a year (or even more). In comparison to this, traditional hiring covers every part of recruitment, no matter how big or minute it might be.
2.Executive search is more investigative in nature. Think about a hiring situation where you have to recruit a senior manager? There is a lot of risks involved in selecting a senior resource, especially when the budget is vast and the history of the employee is involved.
3.Traditional recruitment sought candidates that are actively seeking a job change. But unlike this form of hiring, executive search is more complex because here you have to 'find' and 'captivate' a candidate who could probably be interested in the package. There is more effort required from the end of the hiring team.
4.Executive search is a part of highly customized hiring. Each part of the hiring cannot be generalized to something or the other. It is an effort of company's pre-existing network, highly selective candidate pooling and thorough evaluation process. When the client has a specialized need, then the executive search has a customized solution.
5.At times, the executive search could be highly risky as it involves serious investigation and detailing. Traditional hiring on the other hand is broader and specific only to the entire hiring needs of the organization.
6.
There is a lot of persuasion required from the end of the hiring manager in
executive search
. Here, you are dealing with a candidate who is less interested in your recruitment package. Apart from just finding the candidate, persuading him/her to join or accept the offer is a challenge in itself.
7.Unlike traditional hiring, executive search doesn't require a proven methodology to find talents. It is as customizable as the specific needs of the organization.