Payroll outsourcing Does it make sense to hire Payroll Outsourcing for your Business?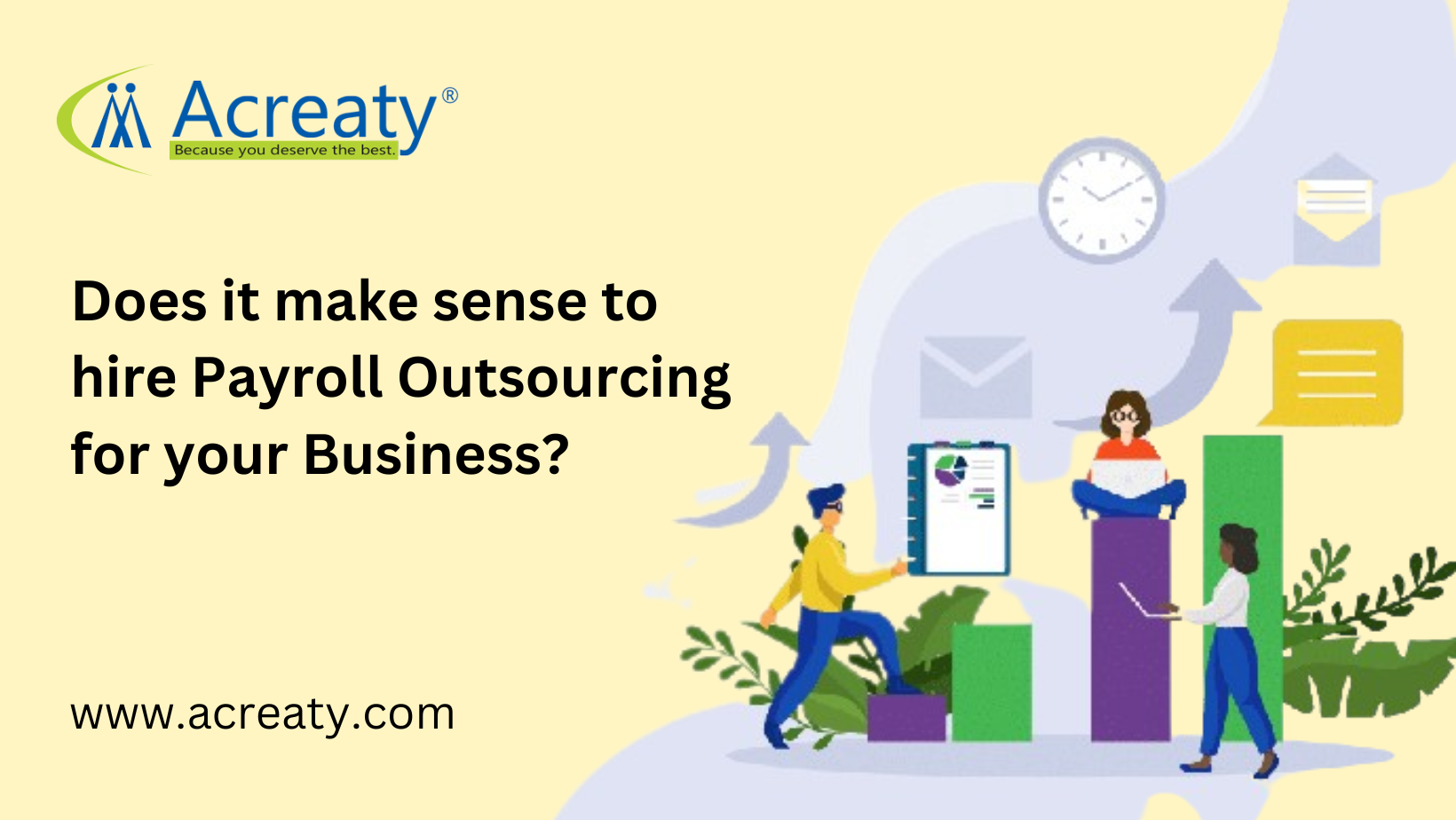 Payroll processing and management can be the difficult and tedious job for any business. It is also crucial because payroll taxes considerably affect the net income and growth of many businesses and they are subject to laws & regulations inclusive of overhead costs and employee remunerations. Outsourcing payroll services is often regarded as a smart business decision. Even startup or small companies with just a small number of employees can save huge money by turning over time-taking payroll tasks to professional companies. What is more, by consulting a Leading Payroll Outsourcing Companies, businesses can rid themselves of tax reporting duties and other payroll processing burdens. When chosen properly, they provide simpler and less expensive ways of paying your staffs, filing your taxes, and performing other responsibilities.
What makes Outsourcing Payroll the Best Business Solution
It has become popular choice today because of the proficiency of their services. Increasingly, many companies and business owners are realizing that they do not have to manage a finance department in their business. They do not have to pay extra to finance staff, keep dedicated office space, manage workflow the list is endless They can save extra bucks by letting another company that specializes in payroll outsourcing takes over the running of their tax deductions and salaries for their employees. This truly makes sense for both the employer and the outsourcing company. It is a mutually beneficial situation. The fact that competent professionals are charged with the payroll management services means that they can provide you with superior quality service in making careful calculations of tax and other payroll functions. This is crucial because mistakes in tax amounts computation or savings can cost you money and bring out penalties.
Here are 5 top reasons why business should outsource their payroll
· Save Time
· Leverage Payroll Expertise
· Streamlining complete Payroll processes
· Less investment in IT infrastructure
· Low risk of Payroll penalties & Compliance defaults
· Protect Confidential Payroll Data
· Get Access to Top-Notch Technology
· Speedy resolution of all employee issues
· Strict adherence to compliance and statutory
Improve efficiency with simplified Payroll Outsourcing Services
With steady progression in technology and work culture values, it has become vital to see payroll as a specialized function. For that reason, outsourcing payroll function aims at bringing business process efficiency and enables any organization to focus its energies on its core business activities. In this pursuit, it requires specialists to manage the most difficult payroll and tax scenarios. By outsourcing Payroll processing can bring about the new package of market know-how and business insights and help you focus on running your own business. The payroll processing services allow you to take your HR management to a higher level. Outsourcing payroll solutions will directly address all the necessities of payroll management. The Payroll outsourcing company help businesses enhance their competitive edge with the help of customized solutions built on the foundation of qualified professionals, vast domain experience, and advanced technology. With reliable and reputed payroll outsourcing companies, you get complete access to state of the art technology (with no additional charge) to better maintain your payroll & HR needs.