Recruitment Exciting Trends for Senior-level hiring company to heed in Changing Times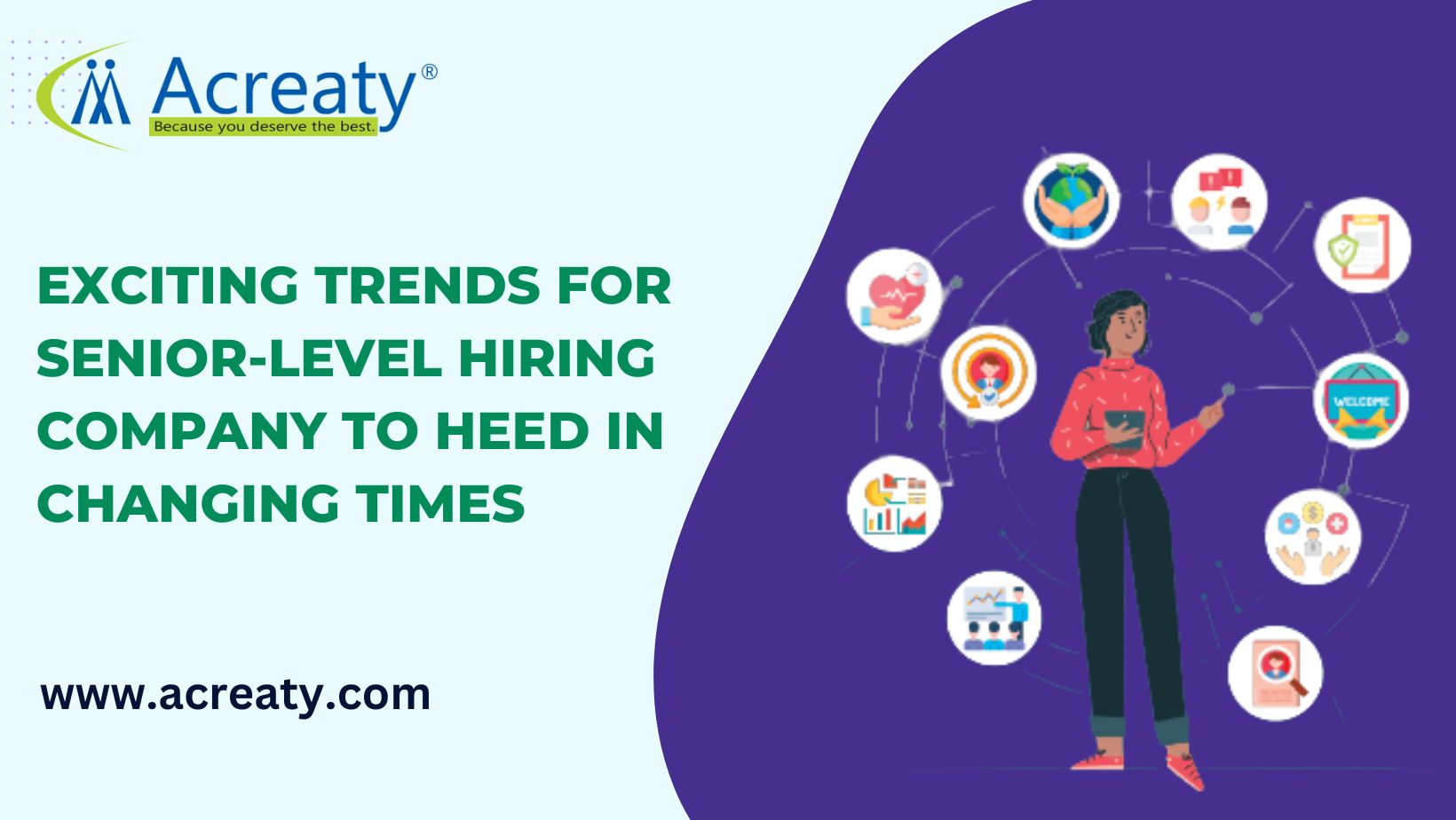 To what extent will digitalization affect the recruitment industry? How best to stay competitive? The senior level or executive recruitment landscape has long been defined by emerging trends and technological changes & growth. Employers or Business owners are always looking for ways to innovate and, in turn, avoiding costly hiring.
So, what does future hold for C-level hiring? Look at some new trends that will make the most significant impact on senior level hiring company in the coming year.

Predictive Analytics for Hiring

Predictive analytics is the biggest recruiting trends. A growing number of senior-level hiring companies are reverting to analytics to monitor productivity, the profitability of new hires and the retention rate. Recruiting firms and HR Departments must be able to produce specific data points to assist when assessing potential employees. Through assessments and analytics, companies should be able to predict with greater accuracy future success of potential candidates, the impact on revenue growth and establish HR as a key player in company's success and profitability.
· Remote Employees or flexi-hours' workforces
Remote staffs are becoming a latest trend within the countries like United States. The fact is that an increasing amount of potential hires will consider flexi-hours as part of the package. It will not be suitable for every role within an organization. Corporates must leverage technology while setting clear expectations if a remote workforce is going to be successful. Hiring strong leadership is also significant and they must develop trust in your team. In the long-run, a lack of flexibility in this area could affect the potential of the company to attract and close potential candidates.
· Optimized Job Postings- Increasingly being tweaked
Now-a-days, it is no longer enough to put out a job posting on a job board, calmly sit back, and wait for the end-result. Job postings are increasingly being optimized not just to define a role, but to sell your company as a business owner. Make sure you brush up on the current compliance.
· High technology and Digitization
As Human Resource functions become more advanced and sophisticated, it is technology that is enabling them to perform search work themselves. The challenge for the executive search industry or Headhunters is to step up the pace and to digitize parts of the service offering. External search firms are turning to open minded, they are going to be more accountable and transparent. HR will be adding more technology to reduce monotonous tasks giving them more time to focus on the people. Mobile will continue to play a vital role not only in hiring but also in pay and benefits.
The business world is changing and the business of recruiting leaders (President, Vice President, Director, C-level executives, Manager Roles) must change too. Boards and Companies Directors want committed, co-operative partners who are not shy on innovation. The executive search companies that survive will be those that embrace the digital world, offer added value and deliver competitive advantage. The companies that serve as a 360 degree talent consultancy, companies that make it their business to be game changers and to keep their clienteles one step ahead of the curve.