outsourcing Functionality services for HR and Payroll outsourcing companies in India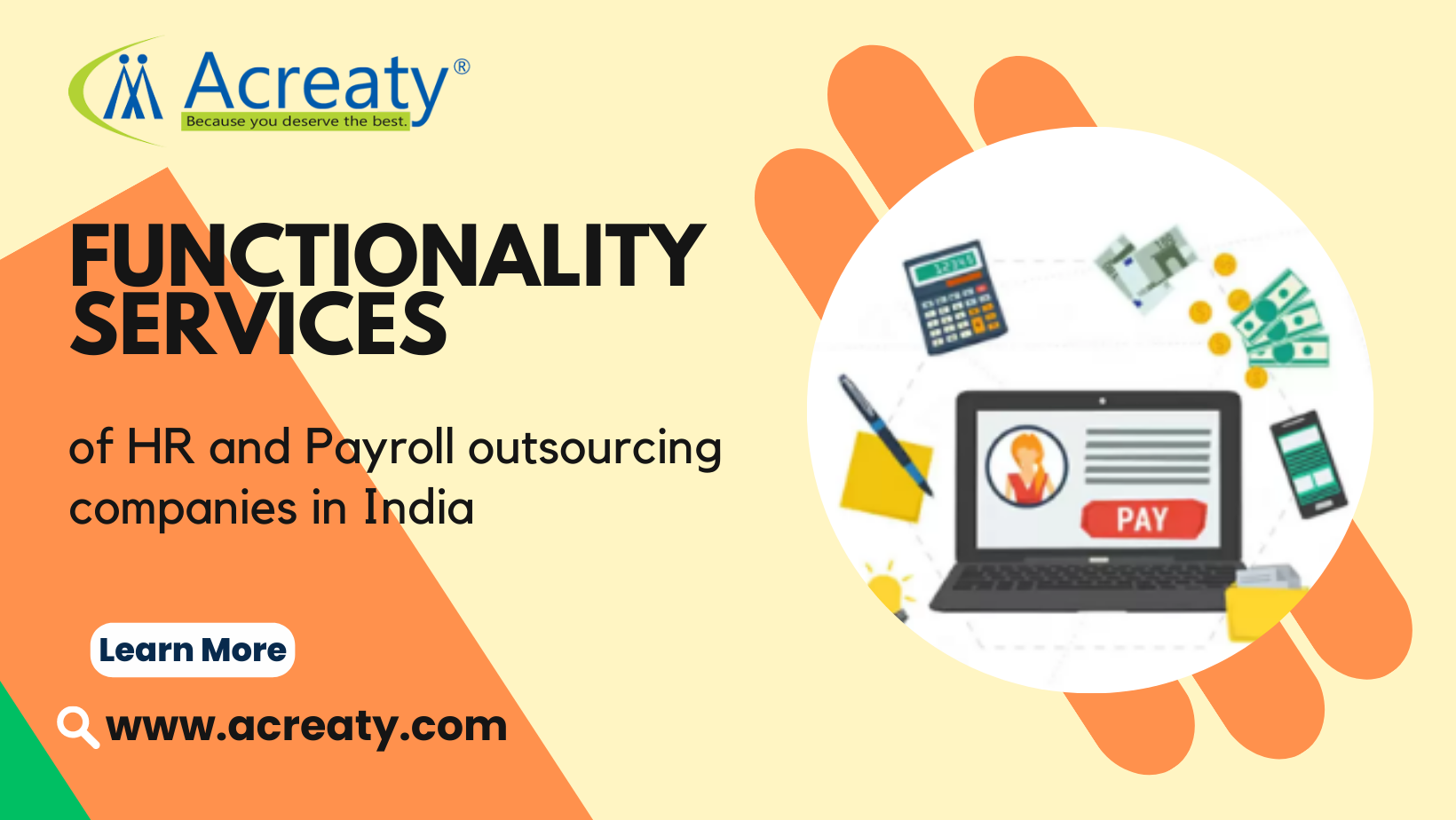 HR and Payroll are two different business areas. HR is related with the employee data and their relation with others in the workspace. Payroll is related with salary, bonus, deductions and taxes. These departments are distinct in operations but they are mutually exclusive in many cases. In 2019 there has been tremendous growth in business development due to Outsourcing firms in India For example employees joins organization on 18th of a month then maintain the records are into the HR domain whereas processing salary based on date of joining is part of payroll calculations.
Functionality of a People Outsourcing Companies
People outsourcing companies provide manpower services to work on special designated task. These companies work on contractual needs of the clients and with the help of talent pipeline, candidate data and more provides top employees to hire in a firm. They further work on designated business task based on different company needs.
Functionality of HR domain
HR domain helps in recruitment, in house promotions, salary classification and its distribution. It also helps employers to maintain employee track record, company policies development, compensation to expenses and much more. HR persons must have understanding of state and labor laws. This helps in managing employee problems and avoids discrimination in any payments and leave applications. The HR functions can be scheduled in betterment of the organization and the workforce.
Functionality of payroll outsourcing companies
Payroll outsourcing companies help in salaries calculations, bonus, overtime payments, Wages, deductions, leave payment and personal days. Payroll companies study the data recorded weekly, fortnightly and monthly. These companies also make necessary deductions from employee paychecks for taxes, health insurance and other factors. It is the role of payroll outsourcing companies that they ensure other expenses are properly reported and timely paid. These companies have complete understanding of state, national and local government.
How manpower outsourcing firms are different from HR domain?
For an effective hiring outsourcing firms and HR domain must work in coordination. When there is a need of an employee in the firm, the HR people can forward the needs to outsourcing firms. These companies focus to serve the manpower requirements of the organization along with the authenticity of the candidates. The experts in the organization analyze shortlist and interview the candidates before finally processing the application to the client company.
Role of Strategic planning from Outsourcing firms
Top companies include HR, Payroll and Outsourcing in strategic planning. This is important aspect of business development and it relates companies to accomplish various mission and vision timely. The experts in the HR domain help companies to find best employee to join the workforce. On the other hand, strategic planning for payroll firm's experts includes creating and maintains each employee's daily in-out, wages distribution, Insurance and tax benefits. Whereas, outsourcing firms provide services which includes responsibilities of both domains. Top outsourcing companies in India helps to maintain process related to payroll, HR, operations, Supply chain, Transportation and different verticals of businesses.
Long-terms and Short terms goals
Every organization has short term and long term goals. While hiring some other firms to perform specific business tasks, it is important to consider both. Outsourcing companies in India are business experts, and they include long and short term business improvement services. These measures concentrate on profit generation. Top companies prefer to hire these third party service providers rather than hiring employees for corresponding duties.
According to Indian Labour Statistics, the growth of employment has tended to increase by 3.65 percent in private Industry. As these outsourcing firms provide job opportunities to the candidates, it helps educated audiences with better professional growth.
What is the cost of hiring outsourcing company in India?
Outsourcing is relatively cost cheaper in India as compared to other countries like South Africa, and USA. The reason why foreign investors are ready to invest in the economy is less expensive labour cost and easy availability of resources. India on a global platform has turned out to be the most favourable country as because of the large number of outsourcing firms in India. Around 83 percent of companies outsource major business activities to perform and deliver services to their customers. This includes BPO services in customer support, customer handling and various non expertise business solutions.
Conclusion
Is it beneficial to operate In-house activities or to hire services from outsourcing firms?
Outsourcing is a smart choice as it offers numerous advantages as compared to working in-house. The top outsourcing companies in India offer affordability and quality in services. In-house project management requires physical space, machinery, and resources. In price comparisons out sourcing requires low investment as compared to the full operational system. 8 out of 10 leaders prefer to hire services from service providers due to less knowledge and better results in the output.
Acreaty India is the most experienced business outsourcing firm in developing and managing different industry verticals. If you are looking for to outsource services in India you can contact- Acreaty