Recruitment Innovative Ways to utilize Recruitment Companies in India to save your Business Time & Money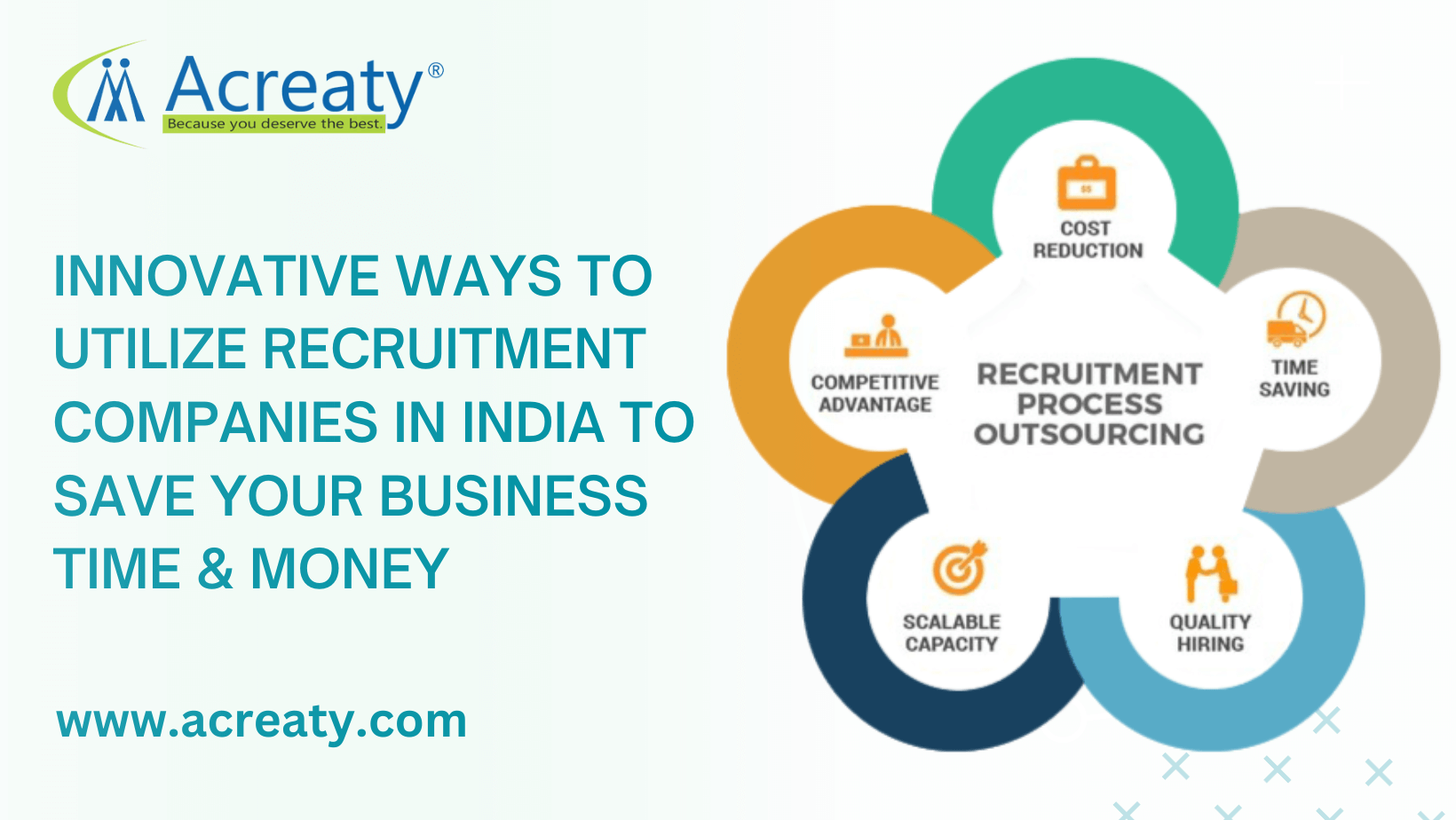 The success of a business mainly relies on the adeptness and true perseverance of an employee. Therefore, hiring the right talent is the critical part of your company's growth. Valuable time is wasted when in-house recruiters are performing tasks at which they are not experts. For most business owners, a major challenge is to manage the cost of hiring employees. Hence, organizations can consider Recruitment Process Outsourcing to avoid their biggest headaches while hiring or recruiting. By utilizing Recruitment Companies in India, you can get your employees back doing what they do be stand in the end save money.
RPO Services- Revolutionary solution and Boon for the Companies
Outsourcing just part of your
recruitment procedure
or all of your recruiting in the Company puts the reins in the hands of experienced recruitment consultants, saving you precious time and money. Other reasons employers choose to customize RPO Services include a need to improve recruiting processes, control rapid growth, reduce a high turnover rate and develop competitive advantage.
Here are a few innovative ways that Recruitment Companies in India can help increase your productivity and save your Business Time & Money.
•Recruiters hire talent fits in perfectly and reduces threats of a Bad Hire
Hiring a new recruit takes money, time and resources from your company. Making a bad hire can be costly. Recruitment Process outsourcing companies handle the recruiting and hiring process from start to finish and additionally provide guidance to their clients and assist with certain challenging tasks. They'll find someone who fits in perfectly with your company culture, far reducing the risk of a bad hire.
•They have the Knowledge and handle Recruitment Process smarty
Recruitment Outsourcing specialists can fill the gaps in your knowledge. From their up-to-date knowledge and expertise in the hiring market to their experience in technology, administration, sales, and beyond—recruiters know how to talk to candidates, what offers to make, what skills to look for and how best to recruit them into your diverse team.

•Act as your personal guide and aids you focus on Core Business
When the recruitment is outsourced to hire experts or specialists, it doesn't take anything away from core business activities and enables employers to find the right candidate they need without distractions from key business operations. Once you outsource to Recruitment Companies in India, you'll be connected with a recruiters who are completely committed to finding the right job for you.
•Companies experiencing a high Turnover Rate and rapid growth
Companies can achieve speedy growth and high turnover when they outsource recruiting to get qualified candidates and a better RPO Solutions from experienced, dedicated recruiters. Companies enjoy higher quality hires of candidates who are vetted, adept and well-matched to the company's openings and culture. When ongoing high turnover starts to strain a company's resources, the decision to Recruitment Process Outsourcing can be a quicker, cheaper way to stop recruiting-related turnover.
Bottom Line
Whether it's to save business time & money, reduce turnover, or control an issue of recruiting volume, achieve process improvements, there are many situations where outsourcing the
RPO Services
can possibly solves business problems. Recruiting Companies can dedicate their time and resources to sourcing, engaging, screening, hiring, and on-boarding top talent that is beyond the reach of startups, small or medium companies. Outsourcing recruiting allows companies to meet their recruiting needs without hampering business operations.