Executive search Strategic Benefits of Leadership Hiring Companies for your organization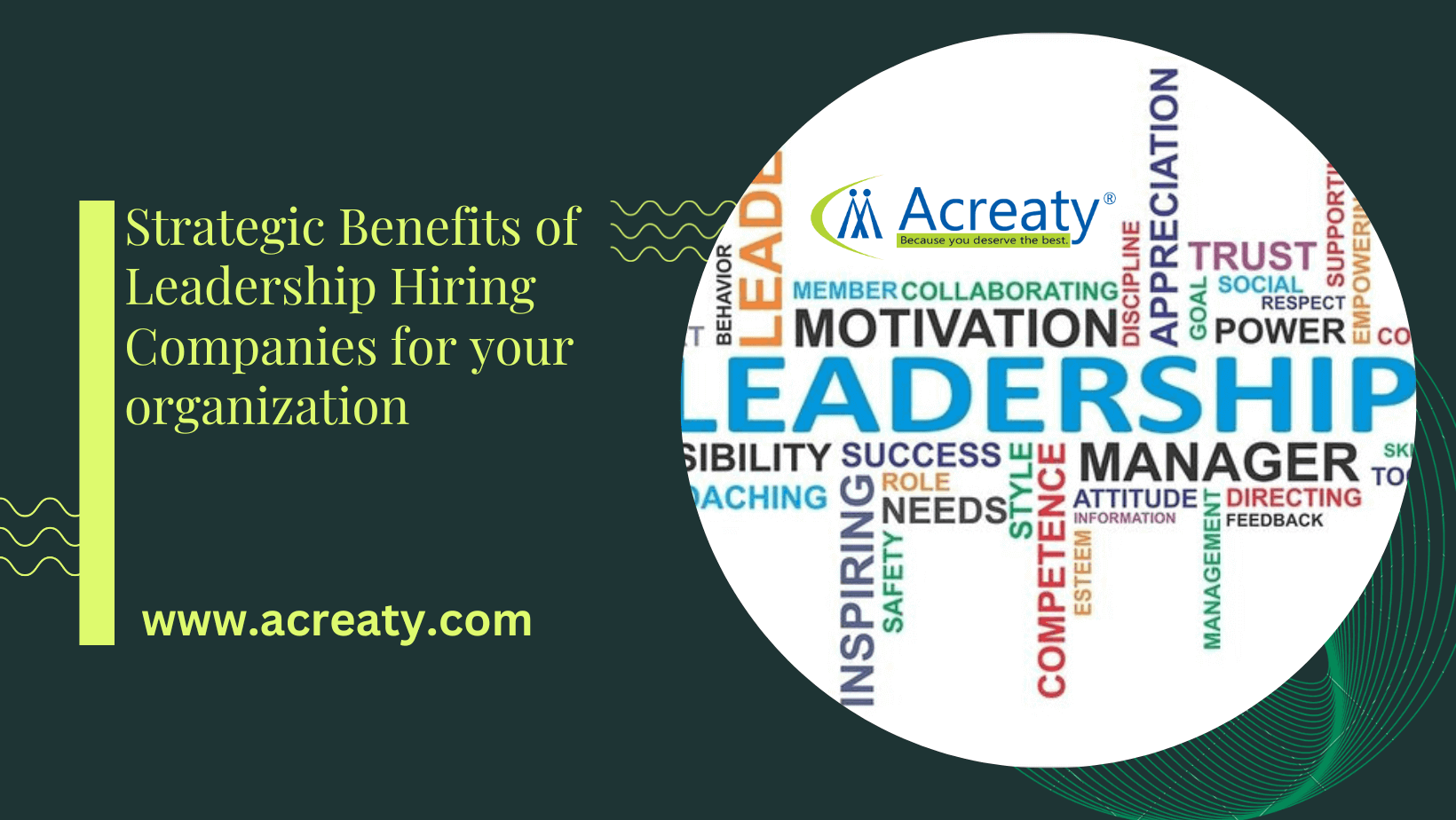 Introduction
Hiring the senior leader for a job in your company is a complex task. The investment is vast and companies need to see that the chosen senior leaders' best fits the position as well as into the company's culture.Reducing leadership hiring expenses and enhancing success in a corporate environment sometimes requires bold moves, such as outsourcing Leadership Hiring . Headhunting Companies can be the key to finding the qualified and the most suitable candidate for your business.
Hiring Companies- Reduces Risks and Ensure Smooth Transition
The need for strong senior leadership, which is a mix of potential skills required to lead and manage the company, cannot be underestimated. Hiring firms or Companies can add real value to your company, providing expert knowledge, expertise and contacts to help you find the right talent for your business. A strategic benefit of using executive search Companies is rapid hiring time frames. With quality candidates already scrutinized and available, they can save your business some crucial time.They also bring outstanding and cost effective hiring solutions for their esteemed clients.
By embracing innovation and new strategies, companies aid in screening the right talent that can fit the precise needs of thebusiness. Headhunting Companies in India have team of expert professional recruiters who have proficiency and expertise in a range of recruiting activities, including qualifications needed for a given senior level role,identifying the core job responsibilities, preparing job descriptions, assessing how candidates' skills and experience match up against the open position and providing advice on the negotiation process between the right candidate and the company
Leadership Hiring Companies with business acumen can aid the following Strategic Benefits:
•Reduces threats of Bad Hire-Hiring new recruit takes money, resources and time from your company. Making a bad hire can be expensive. If the new senior level employee is successful in their position, these costs are considered investments—but if the hiring turns worse, you've just lost your business morale and money. These Hiring Companies, far reducing the risk of a bad hire.
•Handle C-Level Hiring Process smarty-From their State of the art knowledge and expertise in the hiring market to their experience in new trends, policies and technology—recruiters from such companies know how to hunt the right skills and how best to recruit them into your team.
•Aids you focus on Core Business- When the recruitment is outsourced to hiring experts, it enables employers to find the right leaders they need without distractions from key business operations. Once you outsource to Hiring Companies, you'll be connected with a recruiters who are completely committed to finding the best talents for you.Once you contact such Leadership Hiring Companies, you'll be connected with specialist recruiters who are completely committed to finding the right job for you.
•Companies experiencing a high Turnover –Outsourced Hiring Companies can take over your recruiting process with devoted specialists; more experienced recruiters and advanced technology. Companies can achieve high turnover and speedy growth when they outsource recruiting to get qualified candidates.
Senior level executive search is often time consuming and a tricky procedure. However, as this trend starts to catch wings, the number of giants, small and medium industries starts opting for this type of outsourced solutions. Such companies allow meeting their recruiting needs without hampering affecting their business operations.