outsourcing What RPO offer for Mid-Senior Management Positions hiring over traditional Executive Hiring now?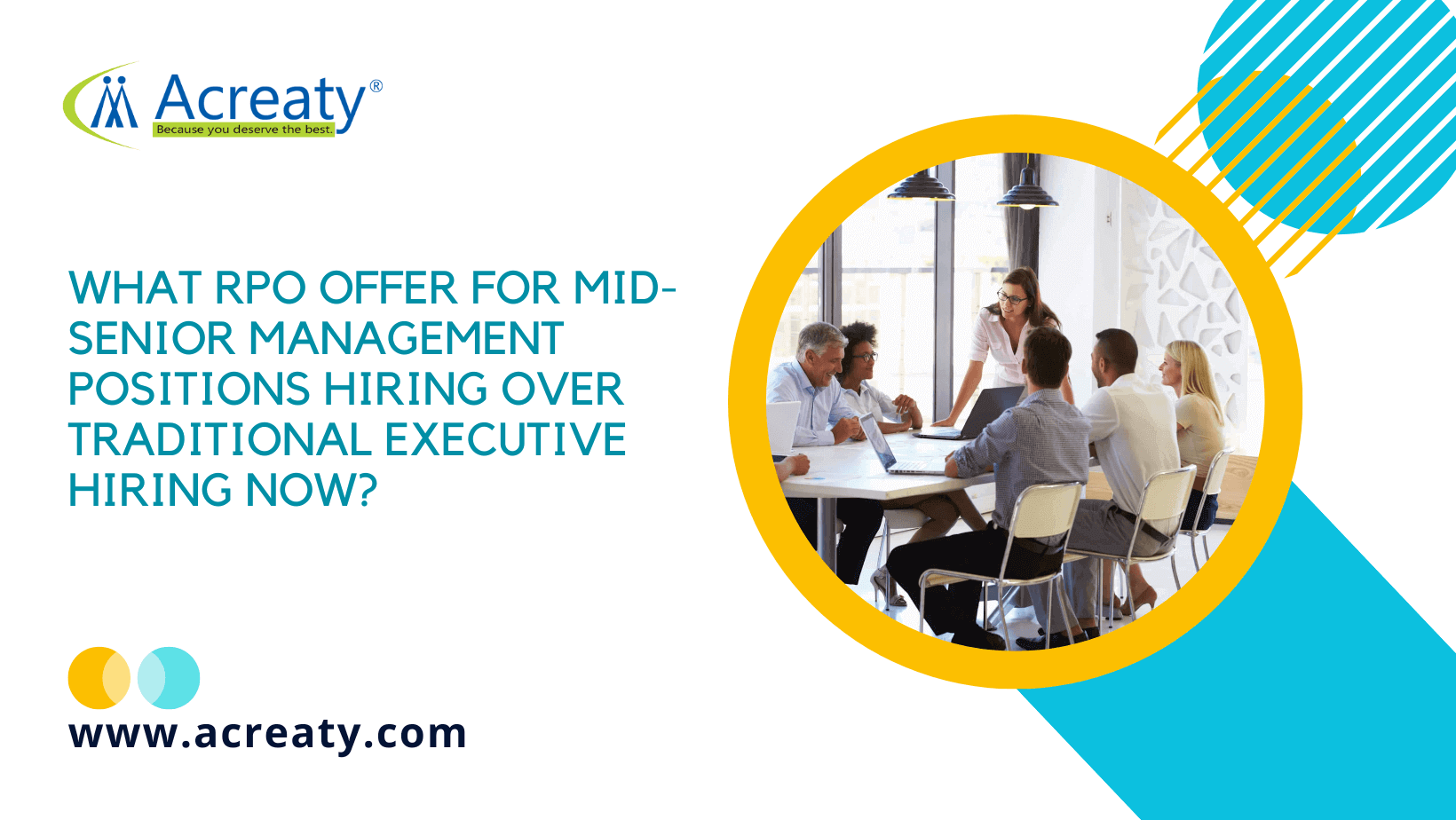 Introduction
The term recruitment process outsourcing (RPO) is gaining recognition, essentially serving as an extension of a company's human resources department. Recruitment Process Outsourcing can efficiently provide expanded resources, best practices, expertise, and process consistency-all translating into cost effectiveness and efficiency. Unlike the traditional hiring process that generally handle time consuming assignments, RPO helps to recruit top quality candidates for even the most demanding positions-Middle & Senior Management Positions.
How is an RPO different from traditional executive hiring?
RPO provider offers services combines with state-of-the-art technology, recruiting expertise, end-to-end solution, platforms and sophisticated methodologies to help client companies streamline recruitment processes, enhance the candidate experience, and improve hiring quality, ultimately impacting the long-term success of an organization. While the traditional Executive Hiring process include source, qualify, and employment for the openings, without providing the scope of service that an RPO might, because RPO is particularly suited for high volume recruitment for entry to Middle & Senior Management positions & roles and companies seeking more predictable hiring costs.
Let's look at major reasons one should consider RPO for Middle & Senior Management Positions hiring:
In partnering with well-known and reliable RPO firms, companies can expect several benefits, from a faster and smoother talent acquisition process to superior candidates filling important roles within the business:
• Reductions in cost and time to hire and better scope
When trusting Recruitment process outsourcing needs to
RPO Firms
, they pour knowledge and expertise in simplifying the recruitment process and providing high-quality candidates who are a good fit for the business. Their RPO services allow focusing on the best candidates without breaking the bank. Unlike traditional hiring experts, experts of outsourcing firms work with leadership to develop a plan specific to the business to bring in the right candidates, cutting down on the extra costs and time.
• Wider and crucial network of potential candidates
Recruiting the potential candidates for the team requires more than just posting a job and waiting for the suitable candidates to walk through the door. While this traditional hiring method for Middle & Senior Management Positions may bring in a few interested parties, the selection will be narrow, small, and there is still no guarantee that any of them will be most suitable and best qualified for the available position. Through innovative sourcing, cutting-edge technology, employer brand strategies, as well as comprehensive talent and job market mapping, outsourcing firms is well-positioned to bring in the right talent good match for the position. Recruitment process outsourcing has the benefit of bringing in both quality and quantity.
• Leading-edge Technology and Data Expertise
Unlike the traditional technique, a skilled RPO provider will assist in selecting the best technologies and tools according to any business requirement. They can also interpret and analyze industry, and market intelligence, leverage big data for better business decisions and implement automated candidate campaigns for better communication. They also have the unique expertise and know-how of recruiting for a broad spectrum of industries and open positions, from mid-level management roles and C-suite senior management to junior/non-exempt positions.
• Enhances employer brand and corporate reputation
The Company's brand image in the competitive platform is an important part of a business strategy. Unlike traditional methods of hiring, many Recruitment process outsourcing companies will help to build the organization's brand as an employer so that aspirants or candidates will show interest to in the Company. It's something to build the company brand into something the employees can believe in. That's what turns potential employees into a team.
Bottom-line
RPO Companies not only help to recognize exactly what is necessary, making the business thrive, experts work with business strategy and leadership to fill an organization with the dynamic talent who can shape up the specific business into the best version. The RPO provider with wide selection of services, from leadership assessment to succession planning to RPO services all work in tandem to align with the workforce (
Middle & Senior Management positions
) with the company's strategies and goals.